Beschrijving
Form 3
Perfect prints with every print
Grow your prototyping and production with your company with Form 3, an affordable, industrial 3D printer that performs continuously. 
The next generation of industrial 3D printing
With the advanced "Low Force Stereolithography (LFS) ™" technology, Formlabs has completely redesigned resin-based 3D printing to greatly reduce forces during the printing process.
| | |
| --- | --- |
| XY Resolution | 25μm |
| Laser Power | 250mW |
| Layer Thickness | 25 – 300μm |
| Build Volume | 14.5 × 14.5 × 18.5 cm |
Low Force Stereolithography (LFS) ™ uses a flexible tank and linear illumination to deliver groundbreaking print quality and printer reliability.
Precision precision
The specially designed   Light Processing Unit (LPU)   in the printer uses a compact system of lenses and mirrors to make accurate, repeatable prints.
25μm XY Resolution |

250mW Laser Power
Sharp, clear details
The laser with high power density is guided through a "spatial filter" to guarantee a clear laser spot. 
Consistent print quality
A parabolic mirror ensures that the laser is always perpendicular to the print surface, ensuring a uniform print quality over the entire building surface. 
Faster than ever
A high-frequency galvanometer offers precise control and high speed.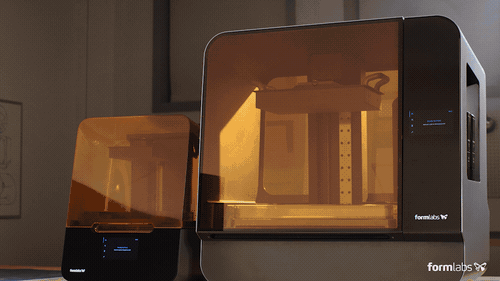 Every Form 3 Low Force Stereolithography (LFS) ™ 3D printer comes with certain essential tools to start printing immediately. Resin not included.
Expected delivery time for Form 3: early June.
Including:
1 Form 3 3D Printer

1 Resin Tank

1 Build Platform

1 Finish Kit

PreForm Software